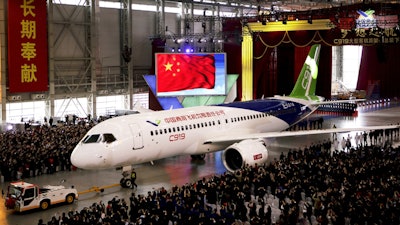 AP File
General Electric this week received a license from the Trump administration to provide the engines for China's first passenger jet — after the president appeared to intervene on the company's behalf.
A GE spokeswoman told Reuters that the Commerce Department granted the license for the company's joint venture with France's Safran to supply the CFM LEAP-1C to the Commercial Aircraft Corporation of China, or COMAC.
China formed COMAC in 2008 in hopes of competing with aerospace giant Boeing and Airbus, but its debut C919 has been delayed for years amid numerous engineering and technical issues.
GE previously secured authorization to supply engines to COMAC in 2014 and 2019, but its latest application drew scrutiny amid growing concerns about the national security implications of tech exports to China. Trump administration officials reportedly worried that China would join the jet engine market by reverse-engineering the GE-Safran engine.
In February, however, President Trump appeared to respond to that report in a tweet, writing, "I want China to buy our jet engines." The White House and Commerce Department did not respond in the Reuters report.
GE is currently furloughing half its jet engine workforce as the coronavirus pandemic and subsequent economic downturn hammer the aviation industry.