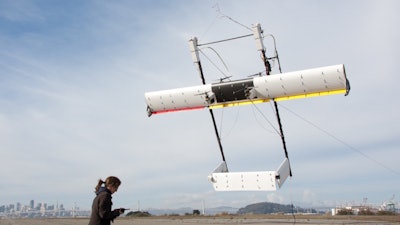 MAKANI via MEDIUM
Google's parent company is ending an ambitious effort to harness wind energy using kites after officials determined that commercializing the technology would be "longer and riskier" than originally hoped.
Fort Felker, the CEO of Makani, wrote in a blog post that the subsidiary's time at Alphabet Inc. "is coming to an end," but that the company and another partner hope to continue developing its systems.
Makani, founded by a group of kite surfers in 2006, sought to create self-flying kites that could ease the materials and engineering costs associated with wind turbines — and thereby bring renewable energy to many more people. Google acquired the company in 2013, placed it under its "X" moonshot arm and eventually spun it into a separate entity.
Felker wrote that over the company's 13 years, engineers developed a 20kW prototype, then a 600kW, utility-scale kite, and, eventually, an array of kites floating off the Norwegian coast. He noted that petroleum giant Shell, which partnered with the company on the floating kite platform, is considering its options to advance Markani's technology.
"To achieve a clean energy future, we need to be open to exploring a diverse array of new renewable energy technologies, and that means pushing bold new ideas as far as possible, sometimes without a clear roadmap," Felker wrote.
Bloomberg noted that Alphabet has cut back on several green energy projects in an effort to focus on its primary internet businesses. The wind project, according to the report, faced particularly difficult economics as the price of wind power plummeted in recent years.