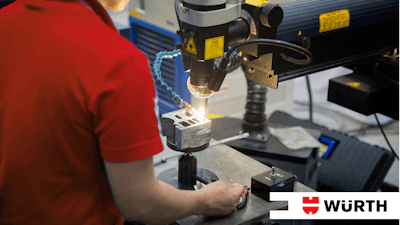 Würth focuses on creative supply chain solutions that allow manufacturers to do what they do best: make parts. When a company partners with Würth Industry North America for C-Class assembly components, the next question is, "What other parts can you help me with?"
The answer for many customers has been working with our specialty products group (SPG). The Würth SPG team focuses on finding innovative solutions for manufacturing, purchasing, and supply chain challenges. From complicated multi-process die castings to metal fabricated assemblies, the SPG team works to provide a solution that takes the pain out of subcontracted manufacturing
At the beginning of 2019, one of our niche agriculture customers gave the SPG team the opportunity to do a line walk assessment, or what the SPG team likes to call a "Brain Storming Session." During these sessions nothing is off the table and questions like, "why are you making part XYZ as an aluminum machining instead of a die-casting?" are asked.
It was during one of these meetings that a large standard industrial valve was identified by the customer and SPG as a constant pain point.
According to the customer, when they began to develop the initial machine design they used readily available parts that could be found off the shelf. At the time, they could not afford the cost of developing a custom part specifically for the application. They were also frustrated because overall consumption of this part was very low compared to the total volume the current manufacture is producing for others in various industries. Many times the customers' orders were bumped to fulfill orders for "more important customers" causing them to keep larger than needed volumes of inventory to support production.
The question was asked by the SPG team, "If you could have the perfect part for your application what would it look like?" At this point, the customer's engineering team typically supplies CAD files with the discussed changes. However, the customer was unable to provide this needed information that allows the project to move to the next step of quotation, tooling creation, sampling, and production.
With the help of the Würth additive manufacturing team, SPG was able to develop a CAD model and 3D print a conceptual part illustrating the customer's desired changes.
Most challenges in global manufacturing projects occur due to lack of communication or unintentional cultural translation issues. For example, the person working with the customer typically isn't the person communicating with the manufacturer 7,000 miles away. Eliminating he said/she said communication ensures transparent exchange between all project stakeholders.
The SPG team visited the supplier multiple times through this process to insure that the customers' requirements were being met. The outcome of the project was a success.
Wurth was able to provide the customer a custom part specifically for their application, with their name molded into the part, and managed to their forecasted demand. It allowed the client to feel confident that they had the right part, dedicated inventory, at a competitive price.
For more information, visit https://www.wurthindustry.com/en/wina/contact/contact.php.