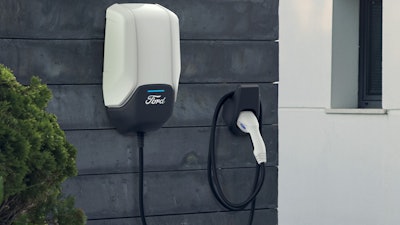 Business Wire
Ford Motor Company on Thursday announced what it's calling North America's largest electric vehicle (EV) charging network, aimed at making EV charging faster and more convenient for as many customers as possible.
Key details of the plan include offering access to more than 12,000 charging stations with more than 35,000 plugs across the U.S. and parts of Canada in what Ford is calling the FordPass Charging Network. Comparatively, Tesla has 4,375 public charging stations and 15,000 plugs in the U.S. according to the Department of Energy.
Besides scale, there are two other major differences between Ford's charging network and Tesla's. First, chargers in the FordPass network are compatible with most other electric cars, whereas Tesla's can only be used by Tesla cars. Second, chargers int he FordPass network were built and will be operated by EV charging companies Greenlots and Electrify America, whereas Tesla runs and operates its all its own chargers.
Ford doesn't have an electric vehicle for sale at this time, but said the new network will make it easier for customers to find a place to charge when the company starts delivering such models next year. Ford will begin selling its highly-anticipated Mustang-inspired SUV in 2020, while an electric version of the Ford F-150 is currently in development.
Another major component of Ford's announcement Thursday is that it will offer two years of free charging-station access to buyers of its electric cars.
"Among people who already own or want to purchase electric vehicles and plug-in hybrids, 48 percent say that a lack of charging stations is one of their main concerns," Ford director of global electrification Ted Cannis said in the company's press release. "By offering industry-leading charging access we are dismantling those barriers, allowing more customers to confidently enjoy the benefits of owning an electric vehicle."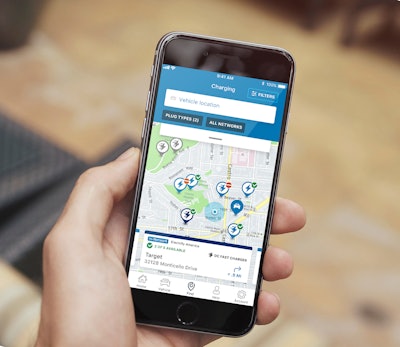 Ford has also authorized Amazon to sell installation services for home chargers, and customers can monitor their at-home or public charging progress through a FordPass mobile app — available only to Ford drivers. Ford EV owners can pay for charging through the app without having to subscribe seperately to individual charging networks. The app is operated by Greenlots, which is a subsidiary of Shell.
At home, Ford customers will have a trio of charging options. With the Amazon-installed Ford Connected Charge Stations, the 48-amp station can fully charge a vehicle overnight — averaging 32 miles per charging hour. Every Ford EV will come with a standard Ford Mobile Charger, which can use a 240-volt outlet to add 22 miles per charging hour. And with a standard 120-volt outlet, customers can add three miles per charging hour. A breakdown of those charging options is in Ford's infographic below.
The FordPass app or the vehicle's on-screen dashboard will tell a customer whether a charging outlet is available or in use (if data is made available by a charge point operator).
Ford said it is investing $11.5 billion in EVs through 2022.