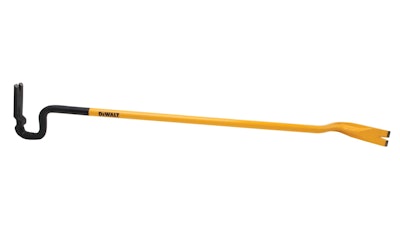 Industrial products maker DeWalt announced Thursday that it is recalling its Multi-Functional Utility Bars due to an injury hazard. The Baltimore, MD-based company said the utility bar can break while being used for prying, and that consumers should immediately stop using product and contact DeWalt for a gift card worth the full purchase price.
The company stated the recall covers about 145,000 units of the product, which involves DeWalt 40" Multifunctional Utility Bars designed at one end for prying and at the other for gripping boards. The bars are yellow at one end and black at the other. "DeWalt" and the model number DWHT55293 are printed in black on the yellow end.
DeWalt said it has received at least 56 reports of the utility bars breaking as of its Thursday announcement, including four reports of injured users.
The recalled utility bars are sold at The Home Depot and other hardware stores nationwide, and online at Amazon.com and other online retailers from December 2015 through March 2019 for between $30 and $40.
The product was manufactured in Mexico.