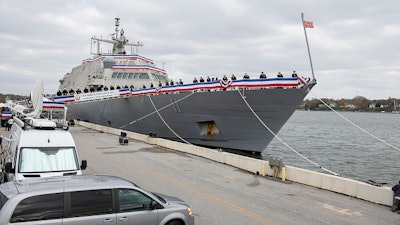 The U.S. Navy commissioned the USS Sioux City on Saturday, the nation's sixth Freedom-variant Littoral Combat Ship at the United States Naval Academy. The ship was built by Lockheed Martin and is unique due to its ability to complete close-to-shore missions. Some of the specs for the Sioux City include:
The ability to reach speeds in excess of 40 knots.

Standard equipment includes Rolling Airframe Missiles (RAM) and a Mark 110 gun capable of firing 220 rounds per minute.
40 percent of the hull can be reconfigured to integrate capabilities like the Longbow Hellfire Missiles, 30mm guns, and manned and unmanned vehicles.
Freedom-variant LCS ships are designed to integrate modular weapons to deliver critical warfighting capability in mine counter measures, anti-surface warfare and anti-submarine warfare.
There are seven ships in various stages of production and test at Fincantieri Marinette Marine, where the Freedom-variant LCS is built. The next Freedom-variant in the class is LCS 13, the future USS Wichita, slated for commissioning in Mayport, Florida, in January. LCS 19 is scheduled for christening on Dec. 15.