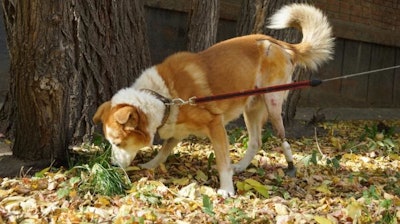 BEST pet clinics, Novosibirsk
Veterinarians from Novosibirsk have conducted Russia's first osseointegrable prosthetics of the hind leg in a dog.
Shans the dog lost his leg due to an accident. Doctors made him an individual prosthesis with a biocoating so it would take root better. Currently, the biocoating developed by Tomsk Polytechnic University scientists is patent pending.
Veterinarian Sergei Gorshkov says, "An implant was tailor-made for the dog based on a patented prosthetic technolog. The technique implies a tailor-made prosthesis with the biocoating which is implanted into the bone and fuses with the tissues ensuring reliable fixation without infection."
Initially, veterinarians conducted a computed tomography scan of the patient's hind legs. Then they made a 3D model of the prosthesis and after adjusting and testing all parameters it was 3D printed using selective laser sintering.
The main part of the prosthesis is made out of a titanium-nickel-vanadium alloy with guide systems made out of a biocompatible photopolymer.
Professor Sergey Tverdokhlebov from the TPU Veinberg Research Center says, "When we received the implant, our task was to apply a calcium phosphate coating on it. This is necessary to ensure the integration of the implant with the bone since this material seems to be deceiving the body and making it to perceive as its own. Due to this, the pet has complete freedom of motion after the surgery."
We had developed with our partners an advanced microarc oxidation facility to apply such coatings.
In this case the complexity was in selecting technological modes for the modification of porous 3D products.
After the implantation, the veterinarians fixed the prosthesis with an external exprosthesis made out of polycaprolactone.
As Novosibirsk veterinarians point out, Shans the dog feels well and uses the prosthesis '100% of the time with full support'. Now it is under the patronage of the Varezhka charity fund and waits for a new owner.