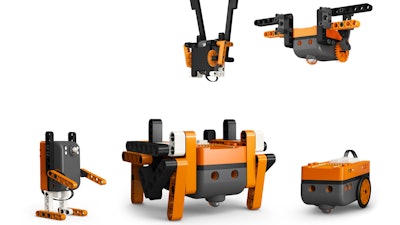 WESTLAKE VILLAGE, Calif. -- Microduino, a designer, developer, manufacturer and seller of STEM learning systems, has introduced a new STEM kit: the Itty Bitty Buggy.
The code programmable toy (CPT) combines play, creativity and logic, and allows consumers to build and program four different, interesting creatures – the Sloth, the Ladybug, the Dodo bird and the Alien – using the foundational base buggy.
Families and creators attending World Maker Faire in New York this month will be the first to experience the Itty Bitty Buggy.
Designed for creators from as young as eight to more seasoned makers, inventors, hobbyists and tinkerers, the Itty Bitty Buggy provides instructional, easy-to-learn steps to bring each thrilling creature to life.
Users can apply four modes – Ranger, Cruiser, Voice Control and Musician – to the individual creatures through the Itty Bitty Buggy free App for iOS and Android devices and remotely control their movements.
The project-based kit is compatible with more than 50 Microduino modules and sensors and is packed with a rich, fun-filled feature set including Bluetooth, remote control, voice control, line tracing and musical color recognition. Beyond the core product, the Itty Bitty Buggy kit contains LEGO-compatible pieces, providing users with endless design possibilities and playful configurations.
The kit provides opportunities for kids to program. With a number of customizable options, makers can dream up a specific behavior for one of the creatures and program it with a variety of coding languages, including Scratch, Python and Arduino.
Following the launch of the Itty Bitty Buggy, Microduino will introduce exciting expansion kits which contain additional LEGO-compatible pieces, sensors and modules to create three fascinating creatures – the Cannon, the Titan and the Beetle – based on the core Itty Bitty Buggy hardware platform.
The kits will also feature artificial intelligence capabilities, including facial and color recognition and challenge skilled users to manipulate new concepts and apply reason and creativity.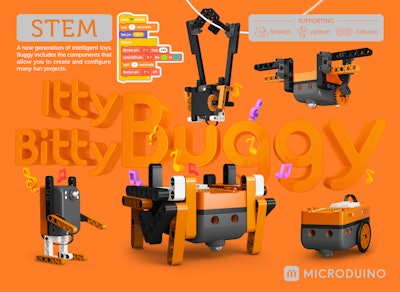 The Itty Bitty Buggy is available for $59.99 on Microduinoinc.com and will be available on Amazon.com.