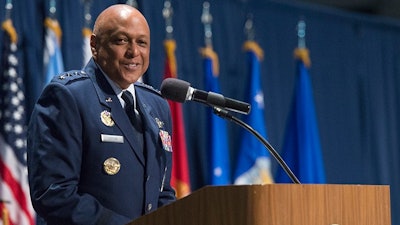 Wesley Farnsworth/Air Force
MONTGOMERY, Ala. (AP) — An Air Force innovation hub has opened in Alabama to harness research and technology for the military.
"Mission Launch 2018" was meant to introduce the hub's mission to defense and regional leaders, Al.com reported. MGMWERX will be operating out of the Montgomery Chamber of Commerce building.
MGMWERX is a partnership with the Air Force Research Laboratory.
The facility is part of a network of WERX hubs and will take ideas generated from nearby Air University at Maxwell Air Force Base to solve technological or efficiency problems faced by the military.
Lt. Gen. Anthony Cotton, Air University president, said the hub will take concepts and "incubate them" to solve difficult Air Force and Department of Defense issues.
"This is a direct link to the Secretary of Defense's National Defense Strategy developing a lethal force though evolving innovative operational concepts," Cotton said. "That critical thinking happens right up the street at Maxwell Air Force Base and will blossom right here."
MGMWERX Director Bill Martin said a team of five will integrate concepts and technology "from the public sector with the broad spectrum of Air Force proposals brought forward by some of the brightest minds in the service."
Anna Buckalew, executive vice president of the Montgomery Area Chamber of Commerce said MGMWERX "will be a model for communities around the world, fueling innovation and collaboration that creates solutions for some of the most critical issues the Air Force and our nation faces today."