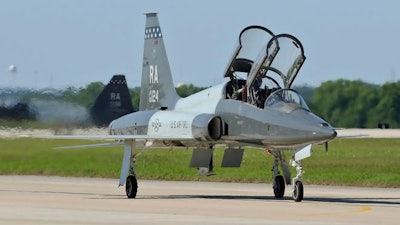 DEL RIO, Texas (AP) — A fatal plane crash involving a flight instructor last year in Texas was caused by a total hydraulic failure of the jet's engine, the U.S. Air Force said.
Investigative documents were released Wednesday about the November crash that killed Capt. Paul J. Barbour, The San Antonio Express-News reported .
The twin-jet, two-seat T-38 Talon jet was based out of Laughlin Air Force Base near Del Rio, Texas. It was flying a routine training mission when it crashed near Amistad Reservoir between two subdivisions, about 14 miles (23 kilometers) northwest of the base.
"I don't know what the pilot was thinking," Val Verde County Sheriff Joe Frank Martinez said at the time. "But it could have been a lot worse had it gone into either one of these two subdivisions."
Capt. Joshua Hammervold, an instructor pilot, was able to eject. He was injured but survived.
The ejection system also should have propelled Barbour from the cockpit, said Marilyn Holliday, spokeswoman for the San Antonio-based Air Education and Training Command. But the 32-year-old flight instructor failed to arm his ejection seat during a preflight checklist and was trapped in the plane during the crash, the report said. Barbour was from Van Nuys, California.
Flight operations at the base were suspended following the crash but resumed a week later.
Laughlin, which is home to 3,000 airmen and civilians, is one of four of the Air Education and Training Command's undergraduate pilot training bases.