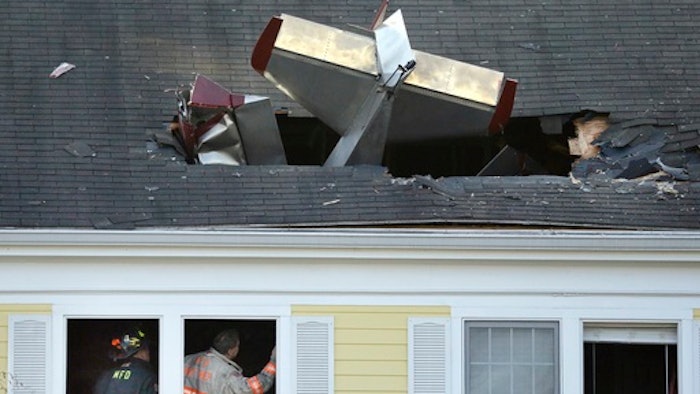 AP Photo/Elise Amendola
METHUEN, Mass. (AP) — The National Transportation Safety Board will look into the "man, the machine and the environment" as it investigates a plane crash that killed a former mayor and left the tail of the aircraft poking out of the roof of a condo building, officials said Wednesday.
Alan Lavender, 73, died when the plane crashed into the building in Methuen on approach to Lawrence Municipal Airport on Tuesday. Lavender was a former city councilor and mayor of Newburyport. None of the building's residents were injured.
The Lavender family issued a statement Wednesday asking for privacy.
"On behalf of our entire family, we wish to express our deepest gratitude for the outpouring of support we have received from our friends and neighbors in Newburyport since the tragic loss of our beloved Al on Tuesday," the statement said.
The NTSB will look at Lavender's qualifications and training, the plane engine's integrity, and the weather and other conditions at the time of the crash, NTSB investigator Aaron McCarter said.
According to witnesses, the plane "took a steep descent and disappeared behind the trees" before the crash, he said, stressing that the investigation is in the early stages.
He urged other witnesses or anyone with video or photos of the crash to contact investigators.
The Sonex plane, home-built from a kit, was removed Wednesday from where it had been lodged in the roof and taken away to be analyzed by investigators.
The two-seat, single-engine Sonex is a "fairly robust" aircraft, he said, adding that they are quite common.
The plane damaged what appeared to be a bedroom in a top floor unit, Methuen police Capt. Randy Haggar said.
Lavender was remembered by Newburyport city officials as well as by neighbors for his integrity, his friendliness and his love of flying and sailing. He served on the City Council for most of the 1990s and was mayor in 2002 and 2003.
He is survived by his wife and three children.