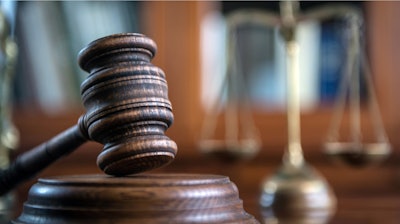 HARTFORD, Conn. (AP) — A medical device maker has settled a lawsuit over the death of a prominent Yale University psychologist who died in 2013 when a machine part detached and caused her blood to be pumped onto a hospital room floor.
Germany-based Maquet Cardiopulmonary and its U.S. sales division based in Wayne, New Jersey, settled the lawsuit in Connecticut with the husband of Susan Nolen-Hoeksema, according to documents filed Friday at Waterbury Superior Court. Terms of the deal were not disclosed.
In court documents, Maquet acknowledged a part of the blood oxygenation machine — which takes blood from the femoral vein, infuses it with oxygen and returns it to the femoral artery — was defective and placed some blame on staff at Yale-New Haven Hospital, which denied liability.
Maquet had issued safety notices in 2012 to customers including Yale-New Haven Hospital warning about the possibility that the part may detach, and it modified the machine's design after Nolen-Hoeksema's death, according to court documents.
The lawsuit alleged there were at least 50 other instances of the part detaching before Nolen-Hoeksema's death. Maquet denied the claim and said hers was the only death linked to the defect.
Nolen-Hoeksema, who was 53 when she died, was chair of Yale's Department of Psychology. Yale's website says she was a renowned scholar, teacher, mentor and academic leader who was recognized internationally for her studies of how people regulate their feelings and emotions and how some patterns of thinking can make people vulnerable to — and slower to recover from — emotional problems, including depression.
She also was respected for innovative work on gender differences in mental illness that included a 1987 evaluation of why women are more prone than men to depression, Yale said.
"Something that I think was clear to everyone in this case is what an absolutely extraordinary human being Susan Nolen-Hoeksema was," said David Rosen, a lawyer for her widower, Richard Nolen-Hoeksema. "She rose absolutely to the top of her profession. She remains an enormously influential figure in her field."
A lawyer for Maquet declined to comment Tuesday. A company representative and a spokesman for Yale did not return messages.
The lawsuit gives the following account of the events that led up to Susan Nolen-Hoeksema's death.
She was admitted to Yale-New Haven Hospital with a bacterial infection in November 2012 and readmitted the following month when tests showed her heart was damaged by the infection.
Doctors performed two surgeries on her on Dec. 21, 2012. Afterward, they determined her circulatory system needed help from an oxygenation system and hooked her up to the Maquet machine.
At about 9:30 p.m. on Jan. 2, 2013, in her hospital room, a blood output connector detached from the machine and sent her blood pouring onto the floor and splattering on the walls. Hospital doctors and staff tried to save her, but she died 24 minutes later.