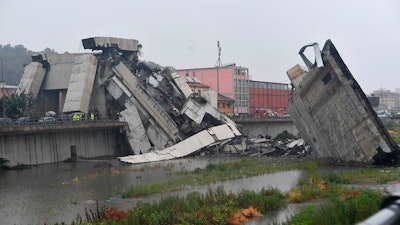 Luca Zennaro/ANSA via AP
It's too early to say what caused the deadly collapse of a highway bridge in the Italian city of Genoa, but corrosion or weather conditions could have been part of the cause, a structural engineer specializing in bridges says.
"As this reinforced and prestressed concrete bridge has been there for 50 years it is possible that corrosion of tendons or reinforcement may be a contributory factor," said Ian Firth, former president of The Institution of Structural Engineers.
"The fact that there was reported to be a storm at the time may or may not be particularly relevant. In addition, ongoing work on the bridge may or may not be partly responsible for the collapse," he added.
Firth said the bridge is an unusual design but is similar to a larger bridge in Venezuela, and both were designed by Riccardo Morandi.