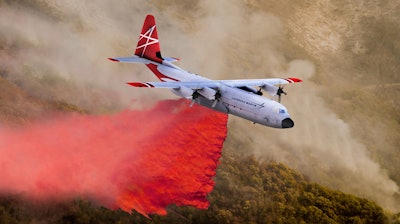 Lockheed Martin recently unveiled their new LM-100J FireHerec at the Farnborough International Airshow. The civil-certified firefighting air tanker is a variant of the C-130J Super Hercules. The LM-100J is the commercial freighter production model of the C-130J Super Hercules and an updated version of the legacy L-100 commercial Hercules freighter. The LM-100J FireHerc offers advanced capabilities to support aerial firefighting requirements.
The Hercules has played a vital role in firefighting by dispersing retardant to contain and control fires in locations with complex terrain and compromised operating conditions. The FireHerc's straight-wing design and turboprop power plant helps in supporting low-level, low-speed firefighting mission. Additional FireHerc features include:
Advanced flight deck avionics that provide situational awareness and modern safety features to protect and guide flight crews through challenging conditions.

The ability to support two different retardant dispersion solutions: the gravity-drop based Coulson Aviation RADS Product Line or the pressure-type dispersal Modular Aerial Firefighting System II (MAFFS II). Both have been certified by the U.S. Forest Service on the Hercules platform to meet strict ground coverage standards.
A path to support night firefighting with advanced integrated technology, allowing responders to combat fires on a 24/7 cycle.