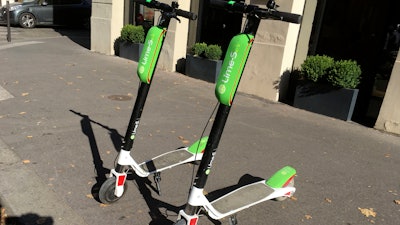 AP Photo/Michel Euler
Uber is getting into the scooter-rental business.
The ride-hailing company said Monday that it is investing in Lime, a startup based in San Mateo, California.
"Our investment and partnership in Lime is another step towards our vision of becoming a one-stop shop for all your transportation needs," Rachel Holt, an Uber vice president, said in a statement.
Uber will add Lime motorized scooters to the Uber mobile app, giving consumers another option for getting around cities, especially to and from public transit systems, Holt said.
Financial details of the deal were not disclosed.
Lime co-founders Toby Sun and Brad Bao wrote in a blog that Uber's "sizable investment" is part of a $335 million fund-raising round led by GV, the venture-capital arm of Google parent Alphabet Inc. They said Alphabet is among several new investors. The money will help Lime expand and develop new products.
According to the company website, customers can rent Lime scooters in more than 70 locations in the U.S. and Europe and leave them parked for the next customer to ride. The company is looking to buy tens of thousands of motorized foot-pedal scooters to expand its reach.
The scooters aren't without their critics, however, who consider them a nuisance and a hazard to pedestrians. Officials in cities like San Francisco have been torn between promoting cheap and relatively non-polluting transportation and keeping sidewalks safe and clear of clutter.
For Uber, the Lime investment follows its purchase for an undisclosed sum of Jump Bikes, which rents electric bicycles in a half-dozen cities including San Francisco, Chicago and Washington.
San Francisco-based Uber Technologies Inc. CEO Dara Khosrowshahi aims to turn Uber into the Amazon.com of transportation, a single destination where customers can go to hitch a ride in a car and on other modes of transportation — even buy rides on city buses and subway systems. Uber also has a food-delivery service.
Rival Lyft is looking for new rides too. Last week, it bought part of a company called Motivate that operates Citi Bike and other bike-sharing programs in several major U.S. cities including New York and Chicago. It will rename the business Lyft Bikes. Terms of that deal were not disclosed either.
While the often brightly colored rental bikes are becoming a more common sight in the U.S., they have already gained widespread use in China and parts of Europe.