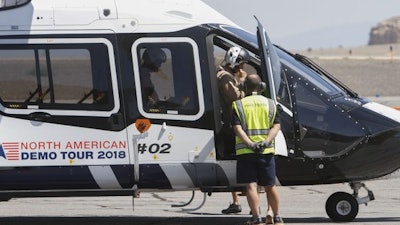 @TheDailyTimes
FARMINGTON, N.M. (AP) — A France-based helicopter company came to test a prototype helicopter at the Four Corners Regional Airport in Farmington, New Mexico, where mid-altitude conditions and warm weather can be found.
Experimental flight test engineer Nicolas Certain told The Daily Times that the test performed this week involved mimicking engine failure.
The test is necessary so Airbus Helicopters' H160 can receive certification from the Federal Aviation Administration and the European Aviation Safety Agency, Certain said.
The H160 is a medium-sized helicopter that can hold up to two pilots and 12 passengers. It can cruise at speeds of about 170 mph (274 kph) and has a range of nearly 530 miles (853 kilometers).
Prior to visiting Farmington, the crew tested the H160 helicopter in the hot temperatures of Lake Havasu, Arizona. Its next stop will be Leadville, Colorado, where the crew will test its ability to fly at high altitude.
The U.S. has testing sites more suitable for those tests than Europe, said Olivier Gensse, an experimental test pilot.
"We have some conditions, but not such as we can find in the United States," he said.
Airbus hopes to get the helicopter certified so it can start selling it by 2019.
The craft could have various uses, including military, commercial and emergency medical services, Gensse said.
The helicopter is designed to have the ability of a lighter aircraft and the systems of a heavier aircraft.
The helicopter uses 15 percent less fuel than previous helicopter engines, according to Airbus Helicopter's H160 infographic.
It is designed to be simple to fly because most crashes are caused by human error, Gensse said.