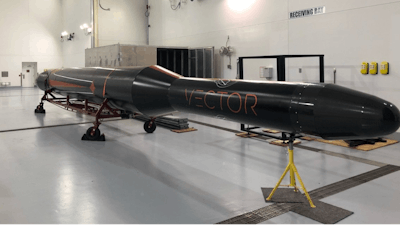 VECTOR, @vectorspacesys
KODIAK, Alaska (AP) — A commercial spaceflight company is preparing for its third attempt to launch from the Kodiak spaceport.
If successful, it would be the first commercial launch from the spaceport at Narrow Cape, the Kodiak Daily Mirror reported Friday. State-owned Alaska Aerospace Corp., which helps facilitate launches, would not name the company, citing a non-disclosure agreement, but said it would try to take off between July 14 and 20.
Two launch attempts by the company over the last three months have been postponed.
"We've tried twice to get their flight off," Barry King, Alaska Aerospace Corp. director of range operations, said during a board meeting Thursday. "Both times, they've run into some issues."
A launch attempt April 6 was scratched over unnamed technical issues, spaceport employees said. Another postponement happened May 11.
Another company, Vector Launch Inc., also has plans to test its vehicle. A company Twitter post last week shows a picture of its Vector-R rocket, which is designed for transporting small satellites into orbit, parked in the spaceport's clean room for preparing vehicles.
A Vector Launch representative could not immediately be reached for comment.
"Vector's moving along rapidly," King said. "We're working with them in parallel with the previous commercial company."