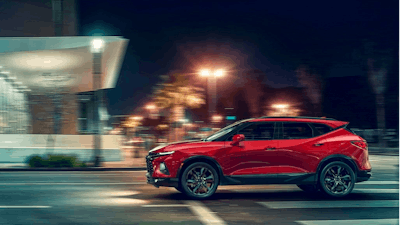 Courtesy of General Motors via AP
DETROIT (AP) — Because these days you can't have too many SUVs, General Motors is bringing back the Chevrolet Blazer.
Only this time it's not a thirsty and boxy truck like its predecessor, one of the original SUVs that was sold from the 1982 through 2005 model years.
SUVs based on car underpinnings, sometimes called crossover vehicles, are what buyers want these days, and the Chevy brand didn't have a midsize one with two rows of seats to compete with the popular Jeep Grand Cherokee, the Ford Edge and Nissan Murano.
So GM on Thursday unveiled the sculpted Blazer in Atlanta, trying to capitalize on a well-known name that has a lot of equity, said Steve Majoros, Chevy's director of car and crossover marketing. "There's still a number of people that either have good positive feelings about that product or still have them in their driveways," he said.
At its peak in 1996, Chevrolet sold just over 246,000 Blazers.
The new Blazer, to be made at GM's Ramos Arizpe factory in Mexico, is far from a box. It sits relatively low to the ground and has futuristic creases on the sides and a low-angle windshield to give it a sporty look. Chevy says it will come standard with a 193-horsepower, 2.5-liter four-cylinder engine, with an optional 305 horsepower 3.6-liter V6. All models will have stop-start technology that shuts off the engine at red traffic lights, plus nine-speed automatic transmissions that will help gas mileage.
Gas mileage and price weren't released by GM. Chevy hopes to take a chunk out of Grand Cherokee sales, one of the more popular and profitable vehicles in the Jeep lineup, in the growing midsize SUV segment. Last year Fiat Chrysler sold nearly 159,000 Grand Cherokees.
The choice to build the Blazer in Mexico brought a rebuke from the United Auto Workers union, which said in a statement that GM is building the SUV south of the border while GM workers in the U.S. are laid off and unemployed. The Blazer also could get caught up in a potential trade war, with President Donald Trump threatening tariffs on imported vehicles.
GM said the decision to build in Mexico was made years ago and that the Blazer's engines are made in the U.S.
The Blazer, due in showrooms early next year, comes as American buyers continue their shift from cars to trucks and SUVs. This year trucks and SUVs accounted for about two-thirds U.S. new-vehicle sales, with cars making up the rest.