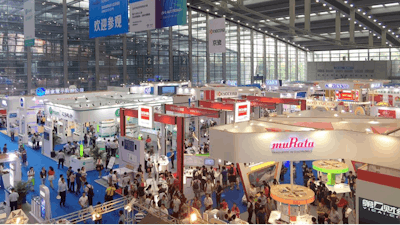 Shenzhen, China -- The preeminent Chinese electronics exhibition, ELEXCON, will be held in Shenzhen from December 20 - 22, 2018.
Devoted to serving the rapid growth and transformation of electronics industries in China and throughout world, ELEXCON 2018 will focus on "The Intelligent Planet".
The trade show will feature special halls dedicated to IoT systems, automotive electronics/electric vehicles, and 5G technology.
Key devices include:
ICs

MCUs

Electronic components

Power electronics

Sensors
5G will be at the forefront of the exhibition. CMCC (China Mobile Communications Corporation) will be under the guidance of the government to build the world's largest 5G test network.
The 2018 5G scale experimental plan will be in carried out in 5 cities - Hangzhou, Shanghai, Guangzhou, Suzhou, Wuhan.
HUAWEI, ZTE and many more companies will be on-hand to display the latest 5G communication technology for user equipment (UE) and network equipment alike.
According to the organizers, ELEXCON 2018 will draw 800 exhibitors as well as domestic and international attendees that will reach 60,000.
The show will feature more than 20 professional forums and conferences with more than 100 local and overseas speakers.
Elexcon 2018 is currently gathering high quality global speakers and exhibitors.
For more information, visit www.elexcon.com and follow ELEXCON2018 on: