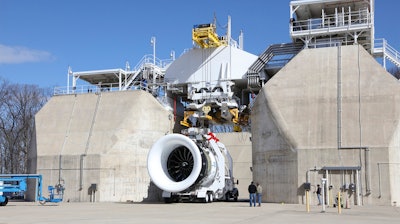 FADEC Alliance, a joint venture between GE and FADEC International, has broadened its agreement with GE Aviation to include collaboration on system architectures and technologies for future commercial engines. Under the agreement, FADEC Alliance will develop, produce, and support full authority digital engine controls (FADEC) for future GE Aviation commercial engines, furthering the company's position in the aviation market.
The agreement builds on FADEC Alliance's current role as the electronic controls supplier for CFM International's LEAP* engine, as well as GE's Passport, GE9X, and ATP engines. This expanded relationship leverages both GE's experience in engine technology and FADEC International's experience in designing FADEC systems. FADEC International is a joint venture between BAE Systems Controls and Safran.
"Working with FADEC Alliance, we will improve engine performance and cost efficiency, incorporating new and innovative engine technologies," said Chuck Jackson, GE9X program manager at GE. "The benefits of combining the proven capabilities of FADEC International and GE are tremendous."
FADEC Alliance also currently has engine controls on the A320NEO, 737 MAX, COMAC C919, Bombardier Global Jet 7000/8000, 777X, and Cessna Denali aircrafts.
"This agreement ensures that FADEC Alliance's business relationship with GE will continue well into the future," said Steve McCullough, chief executive officer of FADEC Alliance. "Blending the expertise of GE and FADEC International in this realm creates an environment where engine control systems will remain a technological discriminator for GE's engines."
GE Engine Services and FADEC International are members of FADEC Alliance, a limited liability company that will continue to focus the two companies' capabilities to design, produce, and support FADEC systems for aircraft engines. The partnership leverages the combined experience of its member companies, which have supplied engine controls to GE since 1984. GE is a world-leading provider of jet and turboprop engines for commercial, military, business, and general aviation aircraft. FADEC International is a world leader in FADEC system design and development.
FADEC Alliance will continue to serve airlines, aircraft maintenance, and repair providers with a full range of aftermarket capabilities designed with the customer in mind. The company's asset management programs also provide fast repair services and spare deliveries.
*CFM International is a 50/50 joint company between GE and Safran Aircraft engines.