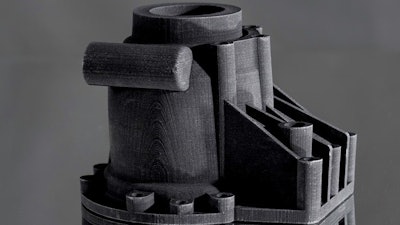 Evolve Additive
Stratasys has formed Evolve Additive Solutions, a new company focused on Selective Toner Electrophotographic Process (STEP) technology.
After nearly 10 years as an incubation project, the new organization will be exclusively focused on bringing the proprietary STEP technology to market - aimed at delivering high-volume production additive manufacturing at breakthrough speeds compared to other commercially available additive processes.
Traditional manufacturers have long sought to combine the benefits of additive manufacturing with the material, quality and economics of traditional production processes. Evolve's STEP technology is aimed at producing parts at a cost, quality and throughput comparable to traditional manufacturing processes.
The solution is intended for high-volume production runs into the hundreds of thousands per year. As such, it is expected to compete with traditional processes, such as injection molding.
Designed for automated manufacturing and factory-floor integration, STEP empowers users to utilize production-grade thermoplastics for volume production applications across multiple industries, including consumer, automotive, industrial and medical.
The scalable and extensible solution combines Evolve's proprietary technology with telectrophotographic imaging.
"We are excited to introduce Evolve Additive Solutions and proprietary STEP technology," said Steve Chillscyzn, CEO of Evolve Additive Solutions and co-inventor of STEP. "We believe the STEP Technology is uniquely positioned to bridge the gap in the market not yet addressed by additive or traditional manufacturing technologies," continued Chillscyzn. "It is the first-of-its-kind technology offering an additive method for mass production. It's designed to deliver the benefits of additive, while handling high-volume production. And we're confident in the Evolve team's ability to make this technology a success."
The STEP process combines time-tested 2D imaging technology with proprietary IP developed by Evolve to precisely align incoming layers and sophisticated bonding techniques that create final parts that are fully dense with isotropic properties of injection molding.
Specifically, STEP technology introduces a range of new features, including:
Engineering-grade thermoplastic materials (amorphous and semi-crystalline)
Production speeds of up to 50X faster than existing additive manufacturing solutions
Cost per part and surface quality comparable to traditional manufacturing
Isotropic properties in X, Y and Z directions on par with injection molding
Industry 4.0 and automation factory floor integration
Multiple material printing capable within the same layer
Full color printing capability – including spot and process.
Evolve is seeking initial purchase orders from companies during its alpha stage. Over the next 12 months, the company will engage new customers to evaluate beta systems for applications in volume production environments across many vertical markets. Parties interested in beta opportunities are encouraged to contact Evolve directly.
Evolve has not yet announced the date of expected general availability of its products.