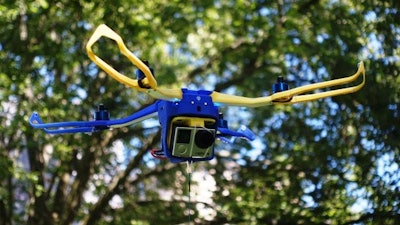 Fotokite
ALBANY, N.Y. (AP) — The Switzerland-based developer of a kite-like tethered drone has won the $1 million grand prize in a New York state business competition.
Democratic Gov. Andrew Cuomo announced Monday night that Zurich-based Fotokite won the second round of the state's GENIUS NY business accelerator program.
The company makes video camera-equipped drones that can fly hundreds of feet in the air almost indefinitely when attached to a retractable cord and power source.
The winner was announced at an event in Syracuse. Five other finalists split $1.25 million.
The competition is part of the Cuomo administration's high-tech economic development policy for central New York, where the state has established a 50-mile unmanned drone testing corridor between Syracuse and Rome.
FotoKite CEO Chris McCall said his company will be expanding its operations in the region.