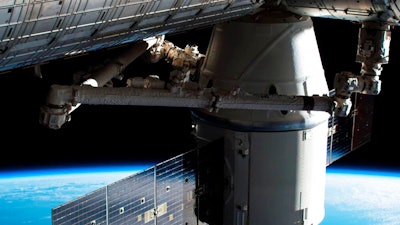 NASA via AP
A SpaceX capsule carrying food, experiments and other goods for NASA has arrived at the International Space Station after a two-day journey.
The Dragon capsule and its 6,000-pound shipment was captured by the space station's robot arm Wednesday.
It's the second trip to the 250-mile-high orbiting outpost for this capsule, refurbished following a visit two years ago. It will remain attached to the space station for about a month, returning to Earth in May.
The space station is currently home to astronauts from the U.S., Russia and Japan.
The supply capsule launched Monday from Cape Canaveral, Florida, aboard a used Falcon rocket. SpaceX wants to reduce launch costs by recycling rocket parts. It combined a recycled capsule and a recycled rocket once before.