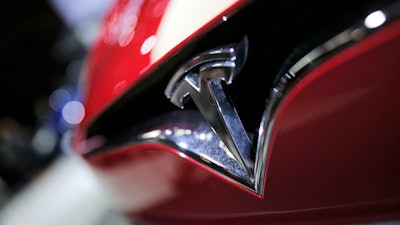 SAN FRANCISCO (AP) — A U.S. agency said Tuesday it has sent investigators to look into a fatal crash and fire on a California highway that involved a Tesla electric SUV equipped with a semi-autonomous control system.
The National Transportation Safety Board said on Twitter that it's not clear whether the Tesla Model X was operating on its Autopilot program at the time of the crash.
The feature is designed to keep a vehicle centered in its lane at a set distance from cars in front of it and also can change lanes and brake automatically.
The driver of the Tesla, a 38-year-old man from San Mateo, California, was killed in the crash last week on U.S. 101 in Silicon Valley, California Highway Patrol spokesman Art Montiel said.
Photographs taken of the SUV show the front of the vehicle was obliterated. Its hood was ripped off and its front wheels were strewn on the freeway.
The vehicle was traveling southbound at "freeway speed" when it hit a freeway barrier, causing a collision with two other cars whose drivers were not reported injured, Montiel said.
"For unknown reasons the Tesla caught fire," Montiel said.
Palo Alto, California-based Tesla Motors wouldn't say if Autopilot was working at the time of the crash. It said in a statement Tuesday that it was deeply saddened by the crash and is cooperating with authorities.
The investigation is the latest by federal authorities into a crash involving a Tesla vehicle.
In January, the NTSB and the National Highway Traffic Safety Administration dispatched teams to Culver City, near Los Angeles, to investigate the crash of a Model S electric car that may have been operating under the Autopilot system.
That crash remains under investigation.
The investigations come as Congress and federal agencies grapple with how to regulate autonomous vehicles and those with systems that are partially self-driving.
Tesla has taken steps to prevent drivers from using Autopilot improperly, including measuring the amount of torque applied to the steering wheel and sending visual and audio warnings.
If the warnings are ignored, drivers would be prevented from using Autopilot, the company said.