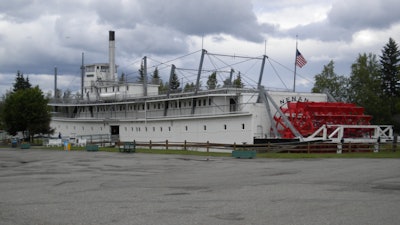 Alaska.org
FAIRBANKS, Alaska (AP) — A paddle steamer grounded in a Fairbanks historical-themed park will be closed this summer after officials found it to be structurally unsound.
The Fairbanks North Star Borough commissioned a structural engineer to evaluate the stability of the Riverboat Nenana in Pioneer Park last summer, the Fairbanks Daily News-Miner reported Friday.
A recent follow-up report from the engineer uncovered problems, said Mike Bork, director of the borough's Parks and Recreation Department.
"There have been structural concerns on the Riverboat Nenana for years, just through it being a big old wooden structure," Bork said. "The end result is there are enough structural concerns with a variety of elements with the riverboat that, at least temporarily, we are not allowing people to walk through."
Park visitors had been able to walk through the boat's cargo deck where village dioramas are displayed.
The five-deck riverboat was built in 1933. It was placed at the park for its opening in 1967.
The borough currently has no plans to repair the riverboat, Bork said.
"It's unfortunate that we're having to take this step at this point, but it's something that's been on the radar for a number of years," Bork said.
The borough has estimated that it would cost nearly $1.6 million to repair the boat and about $9.5 million to preserve it at museum-quality standards.