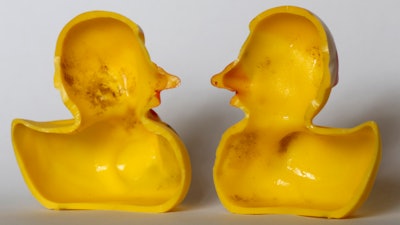 AP Photo/Ferdinand Ostrop
BERN, Switzerland (AP) — Scientists have the dirt on rubber ducky: Those cute yellow bath-time friends are, as some parents have long suspected, a haven for nasty bugs.
Swiss and American researchers counted the microbes swimming inside the toys and say the murky liquid released when ducks were squeezed contained "potentially pathogenic bacteria" in four out of five toys studied. The bacteria included Legionella and Pseudomonas aeruginosa, a bacterium that "often implicated in hospital-acquired infections."
The study by the Swiss Federal Institute of Aquatic Science and Technology, ETH Zurich and the University of Illinois was published Tuesday in the journal Biofilms and Microbiomes.
Researchers, who received funding from the Swiss government, say using higher-quality polymers to make the ducks could prevent bacterial and fungal growth.