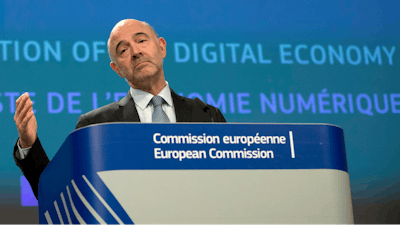 AP Photo/Virginia Mayo
BRUSSELS (AP) — The European Union's executive has unveiled new plans to make big tech companies pay more taxes in a move that would, if endorsed, hit online U.S. giants like Google and Facebook.
Insisting that digital companies must pay their fair share, the EU Commission on Wednesday said states should be able to tax firms that make profits on their territory even if they are not physically present.
It would concern any country where a firm's annual revenue exceeds 7 million euros ($8.6 million), or which has more than 100,000 users or more than 3,000 digital service business contracts in a tax year.
But the 28 EU nations, which must endorse the plan, are divided and it might never see the light of day.
EU leaders will discuss the scheme on Thursday.