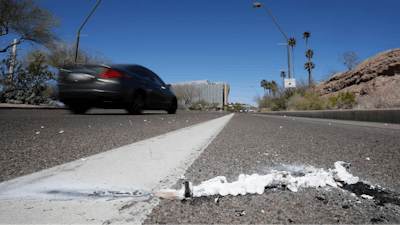 AP Photo/Chris Carlson
Uber has postponed a show-and-tell of its self-driving vehicles after one was involved in a deadly crash in Arizona.
Uber had planned a media event Thursday at its Tempe facility to show off its fleet, offer rides, and have engineers talk about the push to have vehicles operate on their own.
Uber has been testing the self-driving vehicles in Arizona for months.
Police say one of them hit and killed 49-year-old Elaine Herzberg late Sunday as she stepped on to the street. Police say neither she nor the vehicle's backup driver showed signs of impairment.
Uber spokeswoman Stephanie Sedlak says the media event will be held at a later date.