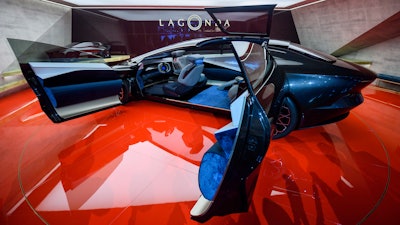 Martial Trezzini/Keystone via AP
With a cashmere and silk interior inside a futuristic frame, Aston Martin is going electric — in what the legendary British automaker is billing as the first luxury brand with zero-emission powertrain technologies.
The high-end car company has spun out its Lagonda "Vision Concept" that some automotive watchers call the standout item at a Geneva auto show already rife with eye-catching items.
The sleek, slim-line concept has doors that open in to each other and a top hatch for easy entry.
With the battery under the floor and armchair-like seats that swivel around, one attraction is roomy interior space.
The seats have red epaulets, and the inside has details of red Melton fabric — the traditional material used by the queen's Welsh guard, said Steve Platt, lead interior designer at Aston Martin.
Production is set to start in 2021.