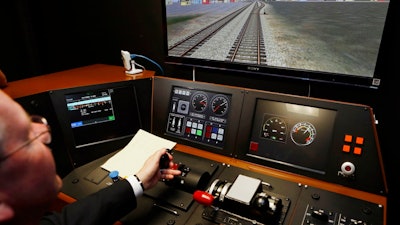 AP Photo/Damian Dovarganes, File
Amtrak is considering suspending service on tracks that don't have sophisticated speed controls by a Dec. 31 deadline, the railroad's top executive said Thursday, threatening to disrupt operations across the U.S. in a push to strengthen safety after a series of deadly wrecks.
President and CEO Richard Anderson told a House subcommittee that Amtrak is worried passengers are being put at risk by delays in installing Positive Train Control systems on tracks it uses but doesn't own. Those tracks make up a majority of Amtrak's network.
Railroads face a year-end deadline mandated by Congress for installing the GPS-based system, known as PTC, but some are asking regulators for an extension until 2020. That's on top of a three-year delay granted in 2015. They've cited challenges including equipment problems and delays in testing to ensure it's compatible with other railroads' systems.
Rep. Peter DeFazio, D-Ore., has proposed to ban further extensions. DeFazio's bill would offer more than $2.5 billion in grants to speed railroads' progress. Industry groups estimate railroads will spend about $10 billion in total to install and implement the systems.
Amtrak already has PTC in place on about 700 miles of tracks it owns on the Northeast Corridor from Boston to Washington, D.C., and in Michigan. Elsewhere, the government-owned railroad operates on track owned by freight carriers and other entities.
Anderson said Amtrak is evaluating whether it will continue running trains on third-party tracks where the PTC deadline is extended. He said the railroad won't operate on tracks whose owners haven't made enough progress to warrant a delay and is unlikely to operate on stretches that regulators have excluded from PTC requirements.
Amtrak's stance could also affect commuters. Anderson said the railroad would be unlikely to let regional carriers such as MARC, Metro-North and NJ Transit run trains lacking PTC on Amtrak-owned tracks after the deadline.
PTC is designed to slow or stop trains that are going too fast, take control when an engineer is distracted or incapacitated and prevent collisions with other trains.
"We believe that PTC should ultimately be in place for all Amtrak routes and, as a matter of U.S. policy, PTC should be required for all passenger rail trips in America," Anderson told the House Subcommittee on Railroads, Pipelines and Hazardous Materials.
Amtrak's warning came after two of its trains were involved in fatal crashes on third-party tracks in the past two months — the latest of about 150 crashes killing more than 300 people over the last five decades that investigators said were preventable by PTC.
On Dec. 18, a train entered a curve at nearly 50 mph (80 kph) over the speed limit and derailed on tracks south of Seattle owned by a regional authority, killing three people. On Feb. 4, a train was switched to the wrong track and slammed into a CSX train on tracks owned by the freight carrier in Cayce, South Carolina, killing two people.
"Without PTC, the system is too vulnerable to single points of failure many of which are dependent upon the memory of a single human being interacting with a big, complicated system," Anderson said. "When an engineer loses situational awareness or forgets a rule, we have no systems to assist them and help them prevent that error."
Signals on the South Carolina tracks were down for PTC installation, leaving dispatchers to manage train movements on their own. The NTSB on Thursday called for an emergency order requiring trains to slow down in such areas and report back if switches are misaligned.
Duy Nguyen, a Columbia University social work professor who survived the deadly May 2015 Amtrak derailment in Philadelphia, said he was frustrated by the lack of progress on PTC.
Eight people were killed and about 200 people were hurt when the Washington-to-New York train rounded a curve at more than twice the 50 mph speed limit and hurtled off the tracks.
"It's infuriating that so many of the rail lines have been dragging their feet," said Nguyen, 42, of Teaneck, N.J. "There are people's lives at risk every day."