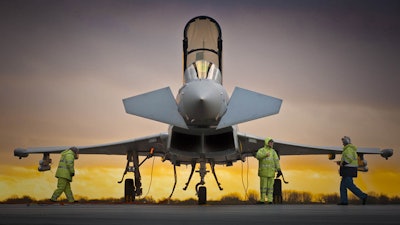 BAE Systems
LONDON (AP) — British aerospace company BAE Systems has agreed to sell 24 Typhoon fighter planes to Qatar as part of a 6 billion pound ($8 billion) deal with European defense contractors.
British Defense Secretary Gavin Williamson announced the deal after contracts were signed Sunday in Doha, the Qatari capital.
The agreement also includes the sale of Brimstone and Meteor missiles made by MBDA Missile Systems, as well as Raytheon Paveway IV guided bombs manufactured in Britain.
BAE Systems put the value of the Typhoon contract, which includes training and support, at 5 billion pounds. Qatar is the ninth country to purchase the aircraft.
Williamson says the deal is the biggest export agreement for the Typhoon in a decade and "will boost the Qatari military's mission to tackle the challenges we both share in the Middle East."