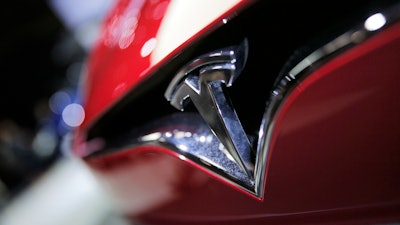 KANSAS CITY, Mo. (AP) — Tesla Inc. can continue to sell its electric cars directly to consumers in Missouri after a state appeals court reversed a lower court ruling that favored a trade group representing car dealers.
The Missouri Automobile Association sued the state Department of Revenue in 2015, arguing that the agency violated state law by granting licenses allowing Tesla to sell cars directly to customers instead of through a dealership.
A three-judge panel of the Missouri Court of Appeals ruled Tuesday that the car dealers association did not have standing to sue the state agency, reversing a lower court's ruling, the St. Louis Post-Dispatch reported.
"The decision (Tuesday) is a victory for Missouri consumers who want the choice to learn about and purchase their Tesla in their home state," Tesla said in a statement. "We have been serving customers in Missouri for almost five years and have contributed to the state economy and jobs for Missourians — something that will now continue."
The ruling followed a decision by Cole County Judge Daniel Green last year that the Revenue Department should not renew Telsa's motor vehicle dealer licenses because the California-based carmaker is not a franchisee. After that ruling, Tesla temporarily closed its offices in Kansas City and the St. Louis suburb of University City but reopened them with court approval to operate during the appeals process.
Tesla had argued the lawsuit was an attempt to decrease competition and limit consumer choice in Missouri.
The dealers association argued that even if it did not have standing, the state doesn't have a method to challenge the Revenue Department's issuance of licenses.
The appellate panel said the association's challenge sounded more like a competitor seeking to avoid competition than an attempt to defend a larger public interest. Chief Judge Mark Pfeiffer wrote that until the Legislature changes the judicial oversight of the Revenue Department's licensing decisions, arguments over licensing must be decided through the political process.
The dealers association said it "will continue to explore the legal avenues available" to support its position.
"We believe that today's Appeals Court decision does not hold the government accountable, but rather enables a system where the Department of Revenue can arbitrarily issue a license to anybody for any reason, without an appropriate and necessary mechanism for Missouri taxpayers to challenge those decisions," Executive Director Doug Smith said in a written statement.