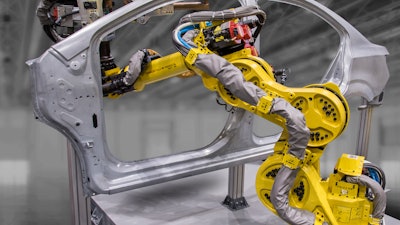 FANUC
FANUC has produced its 500,000th robot. The company introduced a new seven-axis R-1000iA/120F-7B robot at Fabtech 2017.
In April, FANUC announced plans to build a new factory scheduled to open in August 2018. FANUC's new factory will increase its robot capacity from 6,000 to 11,000 units per month.
Recent examples of FANUC's latest products include:
The R-30 i B Plus controller features a new i Pendant with an enhanced screen resolution and processing capability. The user interface, i HMI, has an icon-based screen that provides a familiar and easy-to-use experience with intuitive guides for setup and programming. It also includes tutorials from the main home page that has a design common to FANUC CNCs, enabling easier use of robots.
The FANUC Intelligent Edge Link and Drive (FIELD) system which provides advanced analytics and deep learning capabilities for FANUC CNCs and robots, peripheral devices and sensors used in automation systems.
Zero Down Time ( i ZDT), an application that runs on the FIELD system, is built on the four basic building blocks of factory automation: Mechanical Health, Process Health, Periodic Maintenance and System Health to prevent unplanned downtime. It allows monitoring of real-time production information from connected devices, so a customer can take corrective action before any downtime occurs. As FIELD system and i ZDT grow in the marketplace, FANUC will be able to help more customers with intelligent condition-based maintenance reminders and help optimize the performance and life of their robots.
MT-LINK i shop floor connectivity suite of software. MT-LINK i is a fully scalable, out-of-the-box machine tool monitoring solution that can monitor, collect and manage data from one to one thousand machines. MT-LINK imonitors and collects operation and production data using a PC and an Ethernet connection. The software is set up to automatically collect a variety of data, including alarm history, macro variables and signal history, servo/spindle motor currents and temperatures, battery and fan status, feed rate overrides and more.
The new seven-axis R-1000 i A/120F-7B robot has a payload of 120kg and a maximum reach of 2,230mm. The additional axis allows the robot's J2 arm to fold into itself, making it shorter and able to operate in very tight workspaces.
FANUC is also leading the effort to address the critical challenge caused by a shortage of skilled workers, and help change the perceptions of careers in manufacturing. Its Certified Education (CERT) program provides educators with a STEM-based curriculum centered on robotics and automation training.
FANUC CERT automation training aligns with industry and national certifications to prepare students for high-tech careers in manufacturing.