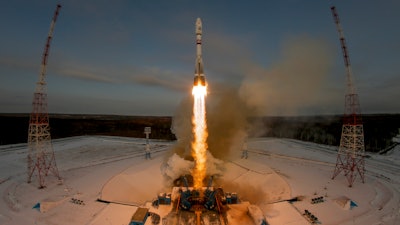 AP Photo/Dmitri Lovetsky
VOSTOCHNY LAUNCH PAD, Russia (AP) — A Russian weather satellite and nearly 20 micro-satellites from various nations failed to enter their designated orbits Tuesday following the launch from Russia's new cosmodrome, another blow to the nation's space program.
Russia's Roscosmos space agency said it has failed to establish communications with the Meteor M 2-1 satellite that was launched atop a Soyuz-2 booster rocket Tuesday from Russia's new Vostochny launch pad in the Far East. The agency says it's trying to determine what happened.
Russian news agencies reported the likely cause was the failure of the booster's final stage, the Fregat, possibly caused by a software flaw.
The booster also carried 18 micro satellites built in Canada, Germany, Japan, Norway, Russia, Sweden and the United States.
It wasn't immediately clear if the Meteor and other satellites fell into the ocean or were stranded in low orbit.
The glitch follows other failed launches in recent years that tarnished the reputation of Russian space industries. Some of the glitches were traced to manufacturing flaws.
Asked about the failed launch, President Vladimir Putin's spokesman Dmitry Peskov refrained from immediate comment, saying that the Kremlin was expecting space officials' report on the situation.
The failed launch is the second since the Vostochny cosmodrome made its debut in April 2016.
Russia spent billions of dollars to build the new launch pad as a possible alternative to the Baikonur cosmodrome in Kazakhstan that Moscow has leased from its former Soviet neighbor.
Some observers have disputed the feasibility of the expensive new facility, given the fact that Russia plans to continue using Baikonur for most of its launches. Construction work at Vostochny has been dogged by scandals involving protests by unpaid workers and the arrests of officials accused of embezzlement.