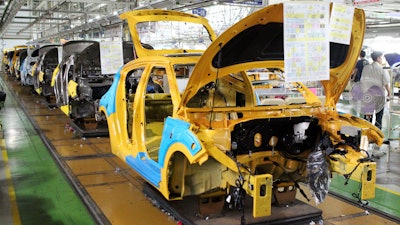 Lee Sang-hyun/Yonhap via AP, File
SEOUL, South Korea (AP) — Hyundai Motor's workers have suspended production on two assembly lines to protest what they said was a unilateral move by the company to increase output.
The South Korean company, part of the world's fifth-largest auto group along with its smaller affiliate Kia Motors Corp., said Tuesday that the disruption would be temporary and it expects production to resume soon.
About 1,950 workers, or 4 percent of the company's 51,000 union members, stopped work Monday at a plant in Ulsan, 380 kilometers (236 miles) southeast of Seoul, according to Hyundai Motor union spokesman Hong Jae-gwan. The striking workers account for more than half the plant's workforce of 3,500. Hong said there was no plan to expand the partial strike into a full-blown one.
Talks between the union and the management over increasing output of Kona sports utility vehicles collapsed when the two sides failed to narrow disagreements over how many workers will be working on the Kona, and other issues.
Hyundai introduced the Kona in South Korea in June as its first compact-sized SUV. The SUV proved to be a bright spot during a tough year as Hyundai's sales tumbled in China and in the United States. The South Korean carmaker had focused on passenger sedans and is trying to catch up in the faster growing SUV market.
Hyundai's union members accused the company of trying to begin output of the Kona on a second production line that was initially for the Hyundai Accent before management and the union had reached full agreement on the plan. One of the union's concerns was that production of Hyundai Kona was more automated than that of Hyundai Accent and hence needed fewer workers, Hong said.