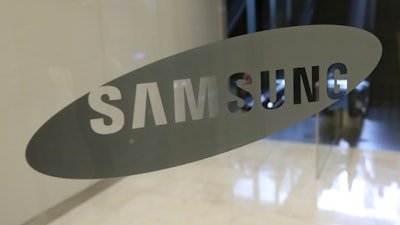 SEOUL, South Korea (AP) — Samsung Electronics Co. reported another record high in quarterly earnings Tuesday as its semiconductor division posted its highest profit ever and tipped another record-breaking quarter is on the horizon, a breathtaking run for a company that is fighting to get its leader out of jail.
The company also announced a monstrous capital investment plan to increase chip production and higher shareholder dividends as the world's largest chipmaker basks in an unprecedented boom in the memory chip industry that helped it overcome a crisis in its leadership.
The South Korean company's July-September net income surged 150 percent to 11 trillion won ($9.8 billion), compared with 4.4 trillion won a year earlier.
The result beats analysts' consensus of 10.9 trillion won, according to financial data provider FactSet.
Sales rose 30 percent to 62 trillion won ($55.1 billion) while operating profit nearly tripled from the previous year to 14.5 trillion won ($12.9 billion), in line with its preview.
Samsung, the world's largest maker of smartphones, has continued its record-breaking earnings streak thanks to a global boom in memory chips that resulted from a jump in mobile data traffic and rise of cloud computing, even as its de facto chief was sentenced to five years in prison on a conviction for bribery.
Hearings are underway at the appeals court as Lee Jae-yong, Samsung Electronics vice chairman and a grandson of Samsung's founder, contests the conviction for offering bribe to then-President Park Geun-hye and her close friend to ensure a smooth transition of corporate leadership at Samsung.
Investors are also waiting for Samsung to name a successor to Kwon Oh-hyun, one of Samsung's three chief executives who are not part of the founding family but climbed the ladder from rank-and-file to overseeing daily management of Asia's largest consumer electronics company.
Kwon led day-to-day operations of the world's most successful chip business and was a face of Samsung during Lee's absence. In a surprise announcement earlier this month, he offered to step down when his term ends early next year.
While two other chief executives oversee Samsung's phone business and appliance business, leaving little leadership vacuum for Samsung's daily operations, there are worries in and outside Samsung that its long-term business planning is put on hold due to Lee's imprisonment.
For now, Samsung is reaping the fruits of its massive investment in the past decade during the days of Lee's father when the cyclical memory chip industry was vulnerable to the global demand for consumer electronics products.
As global tech giants such as Amazon, Google, Microsoft, Facebook and Apple expand their data centers and invest in connected cars, artificial intelligence and cloud computing, Samsung's semiconductor division appears invincible. The company's semiconductor division generated 10 trillion won ($8.9 billion) in operating income during the three-month period, accounting for about 70 percent of its entire operating income. The prices of DRAM and NAND memory chips soared as demand outpaced tight supplies.
To respond to a surge in demand for memory chips that power data centers and mobile devices, Samsung is spending 46.2 trillion won ($41.1 billion) in capital expenditure this year, including 29.5 trillion won to increase output of chips. That is nearly twice as large as Samsung's last year's capital spending of 25.5 trillion won.
With enormous profit growth, Samsung is also earmarking 9.6 trillion won ($8.6 billion) each year from 2018 to 2020 for shareholder returns, nearly double its dividends in 2017.
Samsung, the world's largest smartphone maker, generated 3.3 trillion won from its mobile division, lower than the previous quarter but a jump from a year earlier when its fiery Galaxy Note 7 recalls wiped out nearly all of its profit.
Looking ahead, Samsung's component business, especially its memory chips and advanced flexible displays called OLED, will drive the improvement of its financial performance during the fourth quarter and next year, Samsung said.
The memory chip business will continue to see growth not just from the development of technologies in big data and machine learning, but also from growing sales of mobile devices with dual camera and 3D sensors and artificial intelligence capabilities, it said.