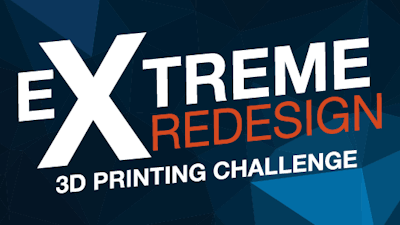 Stratasys
Today, Stratasys kicked off the company's 14th edition of its annual 3D printing challenge. The company officially announced a call for entries for the 2018 Extreme Redesign 3D Printing Challenge, which recognizes excellence in 3D printing by students.
The global competition challenges students to redesign an existing product, create a new product that improves how tasks are accomplished, or design an original work of art or architecture.
This year's contest is fully supported by the GrabCAD community – the world's largest online collaborative environment supporting designers, engineers and manufacturers.
As part of entry criteria, all designs should prove mechanically sound, realistic, and achievable. Submissions are analyzed and judged based on:
Sound mechanical design
Compelling written description
Design creativity
Product usefulness
Aesthetics (art, jewelry and architecture category)
Both individuals and design teams are asked to create entries leveraging 3D CAD software, submitting files in .STL format through the GrabCAD Platform – along with a written description highlighting the design's value and benefits.
The deadline for submissions is February 26, 2018. The categories include:
Engineering: Secondary Education (middle/high school)
Engineering: Post-Secondary (university, college, or post-secondary)
Art, Jewelry, or Architecture (any grade level)
First-place winners will receive $2,500 scholarships. Instructors of first-place students will also benefit from a demo Stratasys 3D printer in their classroom for a limited time.
Second-place winners will receive $1,000 scholarships.
For the third year, the National Coalition of Advanced Technology Centers (NCATC) is also bestowing a $1,000 scholarship to an entry in the post-secondary engineering category who is also from a NCATC member school. NCATC is a network of higher education resources promoting use of technology applications to enhance economic and workforce development programs and services.
For more information and contest rules, visit http://www.stratasys.com/extreme-redesign.