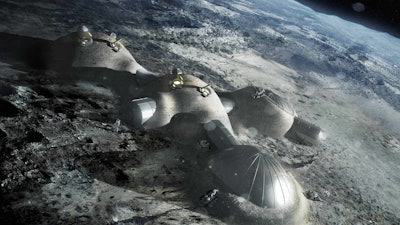 International MoonBase Alliance (IMA)
KAILUA-KONA, Hawaii (AP) — Aerospace experts have their eye on the Big Island as a potential home for an international moon base prototype.
The island is being considered because it mimics the moon's surface, West Hawaii Today reported Wednesday. The facility would be set up just like a base would be on the moon so it can test robots and other equipment.
Video game entrepreneur Henk Rogers, famous for his work on "Tetris," is leading the charge to build the base. He held the first International MoonBase Summit last week.
Top leaders from all the aerospace organizations didn't attend the gathering, which discussed building sustainable settlements on the moon, Mars and beyond.
"It looks like land won't be an issue," Rogers said. "We can focus money on building the structure."
The experts who attended the summit are on track to start construction in about a year, pending permits, Rogers said. The estimated cost to build the base is $10 million.
The facility would have dorms and labs mirroring those that would be in space.
John Hamilton, a physics and astronomy professor at the University of Hawaii, Hilo, said satellite areas would be created for testing robots that would be used on the moon a year or two after trials.
Referencing the fight over plans to build a giant telescope on a Big Island mountain considered sacred to Native Hawaiians, officials said the facility wouldn't desecrate any land and be built in a desolate area.
"Whatever is done will be done in the open and with respect and through the proper channels," Hamilton said.
Those at the gathering decided where to build the real base on the moon when they get to that step: the South Pole because of the similarities in terrain.