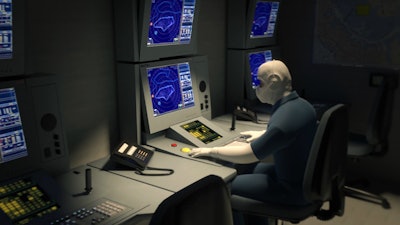 BAE Systems
At the Defense and Security Equipment International (DSEI) exhibition held in London this week, BAE Systems debuted NAUTIS 5, the latest version of its Mine Counter Measures (MCM) system.
The Naval Autonomy Tactical Information System (NAUTIS) is used to counter naval mines, and is installed on board more than 65 ships from seven navies across the world, including the Royal Navy's Hunt and Sandown class Mine Counter Measure Vessels (MCMVs).
NAUTIS 5 incorporates a number of new and improved features including: improved command and control for autonomous and off-board systems, which can be easily integrated thanks to a new Open Architecture; a new and improved Human-Computer Interface (HCI) utilizing the very latest graphical technologies; and embedded on-board training.
NAUTIS 5's new autonomous systems capabilities have been developed following BAE's roles in other autonomous systems projects and programs, such as the Royal Navy's 2016 Unmanned Warrior exercise, the DSTL Maritime Autonomous Platform Exploitation (MAPLE) consortium and the recently launched National Maritime Autonomy Center.
For MCM ships using the current version of NAUTIS, a simple upgrade can be installed in short maintenance periods without the need to change on-board consoles.
The system uses commercial, off-the-shelf hardware based on Shared Infrastructure technology, an innovative hardware solution that hosts software from multiple combat system technology providers on a single system.