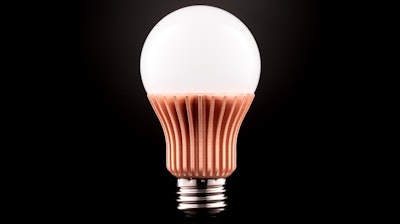 Desktop Metal
Metal 3D printing company Desktop Metal recently completed a $115 million Series D investment round to further accelerate the company's business growth and adoption of its end-to-end metal 3D printing systems.
The funding announcement comes within three months of Desktop Metal launching two metal 3D printing systems covering the full product lifecycle -- from prototyping to mass production (view photos in gallery).
The Studio System is an office-friendly metal 3D printing system for rapid prototyping and is 10 times less expensive than existing technology today, according to the company.
To manufacture metal 3D printed parts at scale, Desktop Metal also debuted the only 3D printing system for mass production of high resolution metal parts today, the Production System. Using new, proprietary Single Pass Jetting (SPJ) technology, the Production System is 100 times faster than today's laser-based additive manufacturing systems.
Since its inception in October 2015, Desktop Metal has raised a total of $212 million in financing, with the Series D marking the largest individual private round for a metal additive manufacturing company.
The Series D round included significant new investment from New Enterprise Associates (NEA), GV (formerly Google Ventures), GE Ventures, Future Fund and Techtronic Industries (TTI). Additional investors included Lowe's, Lux Capital, Vertex Ventures, Moonrise Venture Partners, DCVC Opportunity, Tyche, Kleiner Perkins Caufield & Byers, Shenzhen Capital Group (SCGC) and Saudi Aramco.
According to Ric Fulop, CEO and co-founder of Desktop Metal, the funding will help fuel the company's speed to market, expand its sales programs, as well as progress the development of advanced R&D. The company is also exploring international expansion as early as 2018.