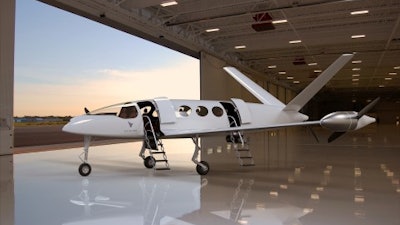 (Business Wire) Stratasys has announced a partnership with Eviation Aircraft for the use of 3D printing solutions in developing an all-electric commuter aircraft. "In the next four years, Eviation aims to make regional air travel a cost-effective and clean option," says Eviation founder and CEO, Omer Bar-Yohay.
The company took a "start from scratch," approach to the engineering of its electric commuter aircraft. The entire development process – including aerodynamic testing and the propulsion system – was redesigned to maximize the efficiency of electric flight. Stratasys 3D printing enabled the company to test many of its designs before investing in actual certifiable parts. Eviation said this helped them save time and engineering costs.
"Our ability to create new iterations of designs with 3D printing and see how they perform in real-time is helping us reduce critical capital costs, even as we accelerate our rapid prototyping phase," explains Bar-Yohay.
For example, Eviation was able to:
3D print and evaluate its wing-tip motors while waiting for the final motors to be shipped.
Reduce interference drag on the exterior of the aircraft by employing smooth, curved surfaces.
Create geometrically complex, lightweight parts to support these surfaces by 3D printing a composite lay-up tool in ULTEM 1010 material, which was then covered with carbon fiber.
"All in all, in two years of operation we have saved several hundreds of thousands of dollars with Stratasys 3D printing and I would estimate six months or more of workforce hours, which made this project possible," adds Bar-Yohay. Eviation is expecting to begin flight testing in late 2018 with commercial availability slated for 2021.