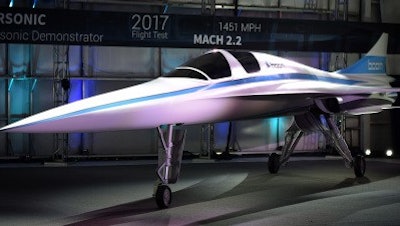 Business Wire
(Business Wire) -- Stratasys recently announced a partnership with Boom Supersonic that the two companies feel could bring commercial airlines closer to routine supersonic travel. The three-year agreement was signed to help Boom accelerate production of advanced tooling and production-grade aircraft parts based on Stratasys FDM 3D printing technology.
Boom feels the added design freedom, production speed and cost efficiencies of additive manufacturing could enable the first flight of their XB-1 supersonic demonstrator to take place next year. The company is deploying Stratasys FDM-based Fortus 450mc and F370 3D Printers to produce production-grade thermoplastic parts.
Boom states that their supersonic airliner will fly 2.6 times faster than any other aircraft on the market today. Accelerating to 1,451 miles per hour, the planes could reduce New York to London flight times of seven hours to just over three hours.
The agreement will allow Boom to leverage Stratasys 3D printing solutions, materials and expert services. The two companies will be jointly exhibiting at the Paris Air Show June 19 - 25.