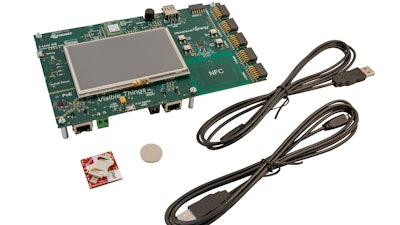 Avnet
Avnet has opened registration for a series of interactive SpeedWay Design Workshops for designers of Industrial Internet of Things (IIoT) applications using Avnet's SK002 Visible Things IIoT Starter Kit.
The one-day, hands-on training events are hosted by Avnet in 10 cities across North America. They will include a mix of technical instruction and labs developed by experts from Avnet and members the company's extended IIoT partner ecosystem.
The SK002 Visible Things IIoT Starter Kit, debuted at the Internet of Things World event last month, combines secure, integrated hardware and embedded software to connect smart sensors and embedded devices, via gateway solutions or low-power wide area networking technologies, to the cloud and smart enterprise software.
Each SpeedWay Design Workshop will feature technical experts from Avnet and Avnet's preferred ODM partner Future Designs, Inc. (FDI), who will provide attendees with training and hands-on product experience designing with wireless protocols and software to make connecting to the cloud easier.
The SpeedWay workshops will be held in the following cities:
Dallas, TX: June 28, 2017
Chicago, IL: July 18, 2017
Minneapolis, MN: July 20, 2017
Irvine/LA, CA: Aug. 15, 2017
San Jose, CA: Aug. 17, 2017
Toronto, ON: Sept. 18, 2017
Boston, MA: Sept. 20, 2017
Philadelphia, PA: Sept. 26, 2017
Baltimore, MD: Sept. 28, 2017
Vancouver, BC: Oct. 4, 2017
A $99 registration fee includes complimentary Industrial IoT Gateway and advanced Sensor Module, continental breakfast and lunch.
For more information, visit www.avnet.me/visible-things-speedway.