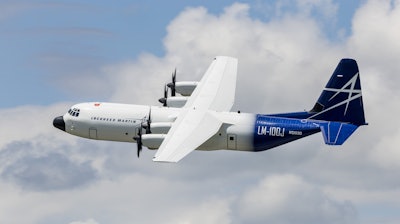 Lockheed Martin, Todd R. McQueen
Lockheed Martin's LM-100J commercial freighter aircraft will make its international debut at the 2017 International Paris Air Show. The aircraft will be on static display June 19-21 at Paris-Le Bourget Airport.
The LM-100J represents the 17th different mission capability for the C-130J Super Hercules platform and is an updated version of the L-100 cargo aircraft, which Lockheed Martin produced from 1964-1992.
The LM-100J made its first flight on May 25, 2017.
This first flight followed the same test flight route over North Georgia and Alabama that is used for all C-130J Super Hercules aircraft. The LM-100J will complete initial production flight tests and then begin Federal Aviation Administration (FAA) type certificate update flight test requirements.
Through select design innovations, the LM-100J will perform as a commercial multi-purpose air freighter capable of rapid and efficient cargo transport. Like its military counterpart, the LM-100J will be able to support multiple missions, ranging from firefighting to medevac to VIP transport.
The LM-100J incorporates technological developments and improvements over the existing L‑100s that result from years of C-130J operational experience, including more than 1.5 million fleetwide flight hours.