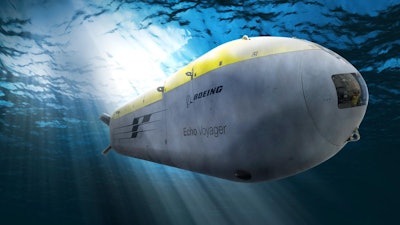 Boeing
Boeing and Huntington Ingalls Industries are teaming on the design and production of Unmanned Undersea Vehicles (UUVs) in support of the U.S. Navy's Extra Large UUV program.
Boeing is currently testing its newest and largest UUV, Echo Voyager, off the Southern California coast. The vehicle is designed for multiple missions and could include a modular payload bay of up to 34 feet, offering enhanced endurance and increased payload capacity over traditional UUVs.
Echo Voyager is fully autonomous, requiring no support vessel for launch or recovery, enabling operation at sea for months before returning to port.
The partnership will leverage design and production facilities in Huntington Beach, Calif., Newport News, Va., and Panama City, Fla., and will offer access to all of the expertise and capability of Boeing and HII.