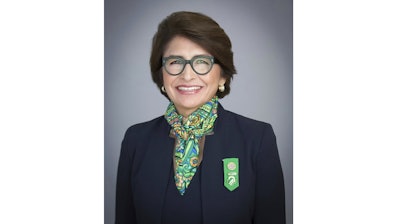 Korey Howell Photography/GSUSA via AP
NEW YORK (AP) — Sylvia Acevedo, who earned a science badge as a Girl Scout and later became a rocket scientist and entrepreneur, was appointed Wednesday as CEO of the Girl Scouts of the USA. A top priority, she said, would be to stem a sharp decline in the organization's membership.
Acevedo had been serving as the interim CEO since last June while the GSUSA conducted an extensive search for a new permanent leader. In the end, the national board decided she was the best choice, depicting her as "a long-time champion for girls' and women's causes."
Acevedo grew up near Las Cruces, New Mexico, and joined a Brownie troop there in the 1960s. She says her Mexican-born mother got help from troop leaders in practicing her English and passing her U.S. citizenship test.
The science badge was earned by building and launching a rocket. Says Acevedo, "It completely changed my life."
After graduating from New Mexico State University with an engineering degree in 1979, Acevedo worked as a rocket scientist at NASA's Jet Propulsion Laboratory and earned a master's degree at Stanford University. She later worked for several technology-related corporations, served as White House commissioner on the Presidential Initiative for Hispanic Educational Excellence, and became a leading advocate of expanded opportunities for girls to pursue careers in science, technology, engineering and math.
She became a member of GSUSA's board in 2009.
The Girl Scouts, founded in 1912, are among several major youth organizations in the U.S. experiencing a sharp drop in membership in recent years. Reasons include competition from youth sports leagues, a perception by some families that they are old-fashioned, and, in the Girl Scouts' case, complaints from some conservative families that GSUSA's approach is too liberal. Earlier this month, the Roman Catholic archdiocese covering the Kansas City, Kansas, region said it is severing ties with Girl Scouts because of philosophic differences.
As of March, GSUSA reported 1,566,671 youth members and 749,008 adult members — down from just over 2 million youth members and about 800,000 adult members in 2014.
Acevedo says she wants to stem the decline with a multifaceted strategy, including intensified outreach to girls from minority communities and rural areas. She wants to offer diverse, balanced programming that ranges from camping and hiking to robotics and civics.