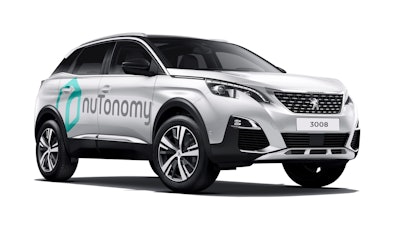 nuTonomy
DETROIT (AP) — Self-driving software company nuTonomy is teaming up with French automaker Groupe PSA.
Boston-based nuTonomy says it plans to install its software and specialized sensors into two Peugeot 3008 SUVs this summer. It will begin testing them on public roads in Singapore in September.
The companies plan to expand that test fleet to about a dozen vehicles by the beginning of 2018. Eventually, nuTonomy and Groupe PSA say they could expand testing to other cities worldwide.
NuTonomy has been testing self-driving taxis in Singapore since last August. The Peugeot SUVs won't be part of that taxi fleet.
Groupe PSA is the parent company of the Peugeot, Citroen and DS brands.
It is the fifth automaker nuTonomy has partnered with. Renault, Mitsubishi, Lincoln and Land Rover are also testing the company's software.