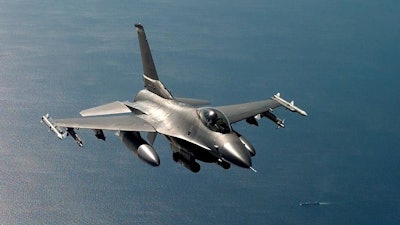 An F-16 Fighting Falcon performed an unmanned combat mission during a recent demonstration held by Lockheed Martin and the U.S. Air Force.
The exercise showcased fully autonomous air-to-air and ground strike capabilities as a new capability developed between the service and Lockheed Martin's Skunkworks. The two-week demonstration took place at the Test Pilot School at Edwards Air Force Base in California. Success depended on three key objectives:
The ability to autonomously plan and execute air-to-ground strike missions based on mission priorities and assets.
Reacting to a changing threat environment during an air-to-ground strike mission while automatically managing contingencies for capability failures, route deviations and loss of communication.
Fully integrating USAF Open Mission Systems software developed by multiple providers.
The autonomous F-16 reportedly demonstrated success in all three areas.
In addition to Lockheed, the effort involved personnel from the Air Force Research Laboratory, the U.S. Air Force Test Pilot School, and contractor Calspan Corporation.
Lockheed Martin says the plane successfully demonstrated an ability to plan and execute the mission, react to a changing threat environment, and automatically manage itself to avoid capability errors.
This was the second demonstration in a series of planned flight tests known as Have Raider II. The first test focused on flight maneuvers. The tests have been done earlier in the form of computer simulations, but this was the first field test.