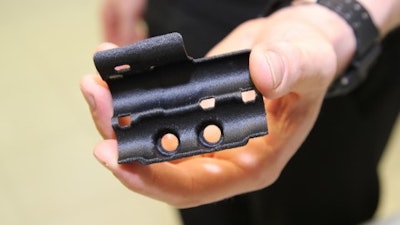 Stratasys
(Business Wire) -- McLaren Racing is expanding its use of Stratasys 3D printing to produce components for its 2017 Formula 1 MCL32 race car, with the goals of accelerating design modifications and reducing weight. Some of the parts that will be 3D printed include:
Hydraulic Line Bracket. McLaren Honda has 3D printed a structural bracket to attach the hydraulic line on the car using Stratasys FDM technology, leveraging a Fortus 450mc Production 3D Printer with carbon-fiber reinforced nylon material. The bracket was produced in four hours, compared to an estimated two weeks using traditional manufacturing processes.
Flexible Radio Harness Location Boot. A new 2-way communication and data system was recently added to the MCL32 race car, but the cable proved distracting to the driver. Taking advantage of the Stratasys J750 3D Printer's ability to print in flexible materials, McLaren designed and 3D printed a rubber-like boot to join the harness wires for the communication system. The final component was 3D printed in two hours.
Carbon Fiber Composite Brake Cooling Ducts. To efficiently control the brake component temperatures, McLaren Honda 3D printed sacrificial tools to create hollow composite brake cooling ducts. The wash-out cores were 3D printed using ST-130 soluble material, developed specifically for the application, and then wrapped with carbon-fiber reinforced composite material and autoclave-cured at elevated temperatures. The final result is a tubular structure with very smooth internal surface finishes to ensure the required airflow to brakes, while maintaining aerodynamics.
Rear Wing Flap. A large rear wing flap extension designed to increase rear downforce was manufactured in carbon fiber-reinforced composites using a 3D printed lay-up tool produced on the FDM-based Fortus 900mc Production 3D Printer. The team 3D printed the 900 mm wide, high temperature (>350°F/177°C) mold in ULTEM 1010 for the autoclave-cured composite structure in three days.
To further accelerate design and manufacturing cycles, McLaren Honda will be bringing a Stratasys uPrint SE Plus to track testing and races on-site, enabling the team to produce parts and tooling on demand.
At Monaco in 2016, McLaren celebrated 50 years of racing in Formula 1. Since 1966, when it entered its first Formula 1 race, McLaren has won 20 world championships and over 180 grands prix. It is now globally renowned as one of sport's most successful competitors and as one of the world's most illustrious high-technology brands.