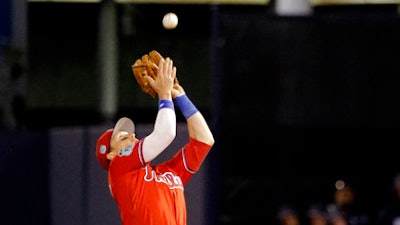 AP Photo/John Raoux
Yankees reliever Dellin Betances wears a sleeve around his elbow to measure stress on a ligament. Chris Coghlan spent spring training with the Phillies using a wrist band to check his sleep and recovery. Others have GPS devices hidden under their uniforms.
In 21st-century baseball, digital devices monitor heart rates, skin temperature — they even track fielder's movements, all part of the exponential data explosion used to determine batting orders, pitching changes and defensive shifts.
"I love to compare what the results say to how I really feel," Coghlan said. "After three years of data, I enjoy comparing to see how accurate it is. I think that it's such a better barometer to measure against than just like, I feel lethargic today."
Major League Baseball's playing rules committee and the players' association approved four wearable technology devices for use during games this year, double the total of last season. The WHOOP heart monitor and Catapult GPS tracker were added to the Motus Sleeve and Zephyr heart monitor.
"Away teams were getting an hour less sleep than the home teams," WHOOP CEO Will Ahmed said. "That's a pretty fascinating finding because so often you hear the home team wins because they've got their crowd behind them or they're playing in a familiar stadium. But our study really showed that actually maybe the home team is just more rested. So we have some teams that are looking at how to improve travel, how to really improve rest and recovery."
Not much is left to subjective analysis anymore. Three additional devices have been approved for on-field use during pre-game practice: electronic bat sensors produced by Zepp Labs, Blast Motion and Diamond Kinetics.
Just a few years ago, managers decided when a player looked hot or not at the plate. Now, a bat don't mean a thing if it ain't got a sensor on that swing.
As part of the union's agreement to approve devices, 40-man roster players have the right to limit who sees the data. They can keep it to themselves or decide which team personnel get to see it.
"I wouldn't allow a front office to say, oh, yeah, he may be low because he's played 'X' amount of games in a row, so his recovery not be as good. He's at a higher risk for injury. Maybe we should just give him the day off," said Coghlan, who was released by the Phillies just before opening day. "I've been not rested and played great, and I've been rested and played terrible. It doesn't correlate to a performance when it comes to the performing of the game."
These gadgets also have been approved for minor leaguers who are not union members and have started to filter down to colleges, high schools and youth ball. It used to be a big deal when Mike Brito was seen with a big radar gun behind the plate at Dodger Stadium, tracking the velocity of pitches.
Now Pocket Radar sells a $299 radar gun that is 4.7 x 2.3 x 0.8 inches and weighs just 4.5 ounces.
"That's actually a curse word in Little League," said Pocket Radar co-founder Steve Goody, who hears organizers and parents tell him: "We don't need kids hurting themselves."
"If you're concerned about that, do what I've done with other people. Work with the kids. Don't tell them numbers," he said. "You tell them incremental improvements. ... You went a couple faster, a couple miles an hour, that's fantastic. And you don't dwell on the number. You don't even tell them the number."
Jetsons-type gear isn't limited to baseball. Catapult's OptimEye S5 computes 1,000 data points per second such as distance, acceleration, directional change and stress. Catapult's devices sit between the shoulder blades in a compression shirt and are used by Premier League champion Leicester and hundreds of other clubs in soccer, the NFL and cricket. In baseball, it is being used along with velocity devices.
"Imagine being able to know throughout the course of a game or a pitching session or whatever, how does your intensity change, and maybe how does it change per throw, on a fastball vs. a curve vs. a changeup?" Catapult president Brian Kopp said. "We should be able to track within the course of a game when those mechanics and that intensity might be going down as a way to measure when you might be getting tired. And maybe the intensity of your throws are going up because you're having to move your body more, but the actual speed on your throw may not be."
With every team looking for an edge, these devices have become as common as pine tar rags.
Betances has used his in the bullpen, not in regular-season games. The Yankees use WHOOP to get their young minor leaguers thinking about their bodies and proper rest.
"It kind of starts them at an early age on the importance of sleep," said Joe Siara, the Yankees' manager of peak performance programs. "We will give them feedback on basically how their recovery is to what they're doing throughout the day, and they can change any behaviors, whether it's nighttime routine or anything else to improve the score."